Awakening Possibilities: Embracing the Power of Performance
August 2, 2023
2023-08-17 19:02
Awakening Possibilities: Embracing the Power of Performance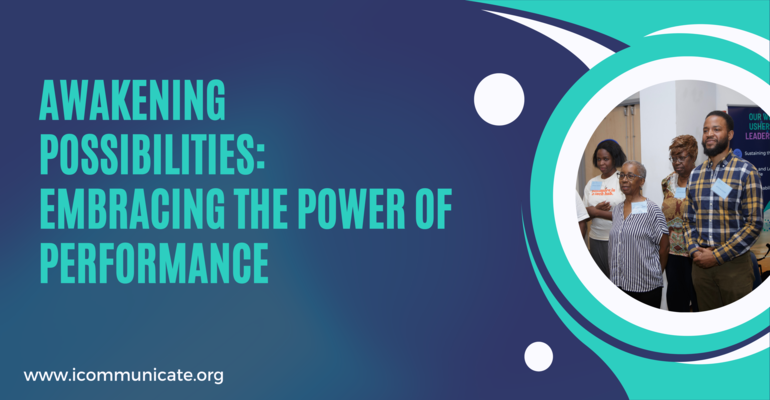 Awakening Possibilities: Embracing the Power of Performance
Introduction
Babe Ruth is considered one of the greatest baseball players of all time.
Legend has it that 'The Babe" would confidently stride up to the plate, point towards the outfield, and declare, "I'm going to hit one 'over there' today." As the pitch crossed over home plate, the crowd held its breath, wondering if he could deliver on his bold statement. As he swung his bat with all his might, the crack of the bat echoed through the stadium as the ball soared through the air, going 'over there' and beyond the outfield wall. The crowd erupted in awe and inspiration.
He performed not one time but time and time again. For 34 years, he held the record for home runs. The name Babe Ruth is synonymous with outstanding performance.
This blog explores the nature of performance as a means of personal growth, connection, and creative expression. This is your opportunity to begin questioning your current relationship to performance and how to access breakthrough achievements that inspire you and others in your life. What would be possible if you could invent another dimension of your authentic voice and discover untapped potential? Join us in exploring the transformative power of performance.
1. Self-Expression
Consider that performance requires a willingness to express your views, passion, and commitment. The path to full self-expression is a journey, sometimes likened to a double-edged sword. Mainly because it lives in the public domain. It is clearly not a private matter. Every time Babe Ruth came to the plate, there was always the possibility of being struck out. He struck out 1,330 times. Michael Jackson began his journey at age 5 and established his inimitable style with a breakthrough performance before a television audience of 47 million at 24. After decades of hard work, surmounting poverty, suffering radiation poisoning, and becoming a widow, all occurring in the first 39 years of her life, Madam Curie became the first woman and two-time winner of the Nobel Prize while ushering in the age of Nuclear Physics.
.
All the above incidents occurred as a function of self-expression. Ruth, Jackson, and Curie found their voice in the public square at significant risk, refusing to be silenced. All the triumphs, breakdowns, and emotional rollercoasters led them to a higher expression of who they were and breathed life into their accomplishments. There are no limits to this kind of self-expression. All experiences are access to new creative outlets. This potent force resides within each of us, waiting to be unleashed. When we tap into the power of self-expression, we break free from the constraints of societal norms and expectations, allowing our true selves to shine through. The power of self-expression lies not in seeking validation or approval but in the liberation that comes from owning and sharing our voices. So step out and take chances. This is how you discover your true expression and your unique voice.
2. Connecting with Others
Madame Marie Curie realized early in life that her passion for science and being a woman would be a difficult path. To win, she had to compete in a male-dominated world where female participation was discouraged and met with disdain. Marie was the first woman to graduate with a Ph.D. and become a professor at the prestigious Sorbonne in France. She won the hearts and minds of men through her dazzling performance as a pioneer in Nuclear Physics.
Often, we think people with significant achievements like Madame Curie did it solo. Nothing could be further from the truth! It took dozens of scientists, researchers, laboratory assistants, and academia – many of whose names we do not know – for her to reach the pinnacle of success. Connecting with others through open dialogue, active listening, and mutual respect allows us to collaborate and build teams that cultivate new ideas and bridge the gap between what you know and need to know to excel in a world of noise and aggressive competition. Mastering communication is the ticket to getting buy-in without force and creating alliances you are proud to have.
To win this game, take on having conversations that you typically avoid. To perfect something, you must practice. Practice connecting with all kinds of people.
3. Personal Growth
Performance can unleash our authentic voices, allowing us to express ourselves fully and honestly. However, this journey of self-expression is often accompanied by self-doubt and fear of judgment. Michael Jackson honed his craft from a young age, overcoming obstacles to finally gaining his autonomy to showcase his talent on the world stage as a solo artist with something to say. Each obstacle became another step on the ladder to success.
By embracing performance, we tap into our creativity and embark on a path of self-discovery. We discover hidden strengths and capabilities within ourselves, pushing the boundaries of what we thought was possible. It is through the process of performance that we confront our fears, break free from self-imposed limitations, and cultivate resilience.
You are a valuable asset to the future being built. Document lessons learned and use those lessons to expand your knowledge and your reach.
4. Inspiring Change and Making an Impact
Performance is not confined to individual growth; it possesses the power to inspire change and make a significant impact on society. Throughout history, performers have used their art to amplify social issues and spark crucial conversations. They have become mentors, leaders, advocates and activists, using their creative expression to shed light on injustices and bring about positive transformations.
Through the power of performance, we can engage with audiences emotionally, stirring compassion and igniting a collective call to action.
5. Creating A Character
Performance principles extend beyond personal impact and can be applied to everyday life. By embracing the confidence, presence, and communication skills accompanying performance, we cultivate essential qualities that enhance our interactions and shape our personal and professional relationships.
As actors immerse themselves in character, we can adopt a similar approach. We can embody empathy, resilience, and adaptability, allowing us to navigate life's challenges with grace and authenticity. Choose wisely as the benefits are immense. Remember the character you are creating is not inauthentic. It is one that forwards your goals, cements your image in the marketplace and expands your capacity to grow and appreciate different points of view. Building characters develops a richer understanding of the human experience, fostering personal growth and enriching our connection with others.
Conclusion
In a world often overshadowed by cynicism and low esteem, it is crucial to recognize the intelligence and thoughtfulness within each of us. We possess the capacity to embrace the power of performance as a guiding light, inspiring us to transcend the challenges and limitations that surround us.
Let us not underestimate the impact of our authentic voices and creative expressions. As intelligent and thoughtful individuals, we can harness the transformative energy of performance, breathing life into our dreams and aspirations. Through the courage to step onto the stage of life, we inspire others to do the same, creating a ripple effect of positivity and hope.
In this journey, we may encounter doubts and setbacks, but it is precisely during these moments that our intelligence and thoughtfulness come to the forefront. We analyze, adapt, and learn from our experiences, forging ahead with resilience and determination. The power of performance allows us to overcome the cynicism surrounding us, shaping a narrative of inspiration and possibility.
As we navigate this path, remember that our performances extend beyond ourselves. They can touch hearts, bridge divides, and reignite the spark of optimism within others and amplify our collective impact.

Ready to lead with confidence? Contact us to secure your spot in the session.